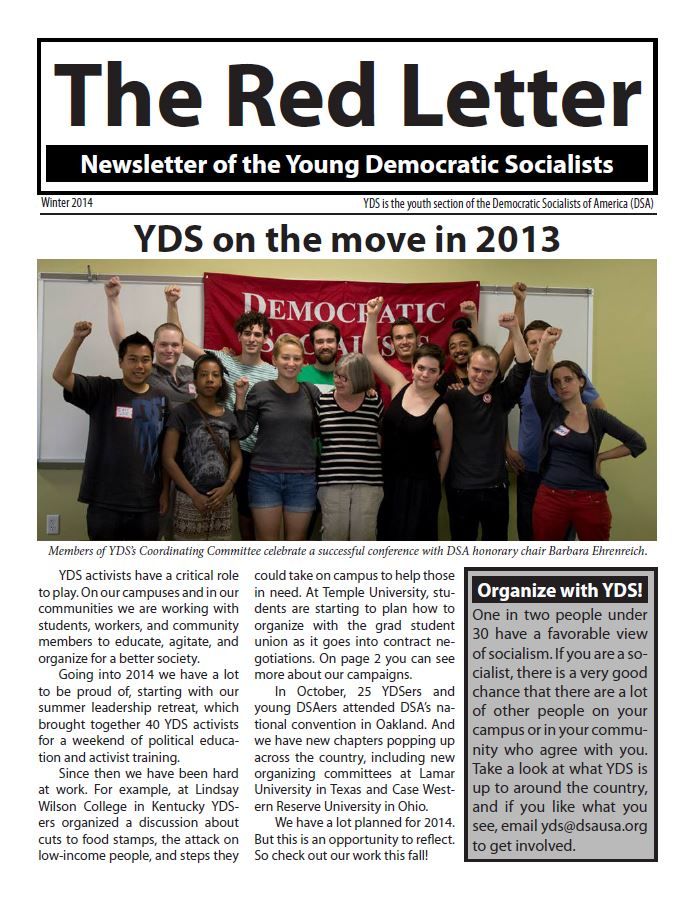 Click on the image above to download a pdf of the Red Letter!
YDS activists have a critical role to play. On our campuses and in our communities we are working with students, workers, and community members to educate, agitate, and organize for a better society.
Going into 2014 we have a lot to be proud of, starting with our summer leadership retreat, which brought together 40 YDS activists for a weekend of political education and activist training.
Since then we have been hard at work. For example, at Lindsay Wilson College in Kentucky YDSers organized a discussion about cuts to food stamps, the attack on low-income people, and steps they could take on campus to help those in need. At Temple University, students are starting to plan how to organize with the grad student union as it goes into contract negotiations. On page 2 you can see more about our campaigns.
In October, 25 YDSers and young DSAers attended DSA's national convention in Oakland. And we have new chapters popping up across the country, including new organizing committees at Lamar University in Texas and Case Western Reserve University in Ohio.
We have a lot planned for 2014. But this is an opportunity to reflect. So check out our work this past fall by clicking here or on the image above to download a full copy of the Winter 2014 Red Letter!