Who we are & what we do
We are the youth and student section of the Democratic Socialists of America, and a national organization of about fifteen campus chapters and several hundred activists. We organize on college and high school campuses to fight for the immediate needs of workers and students, while building our capacity to fight for more radical and structural changes in the long term. Ultimately, we are part of the international struggle to build a better world, and we call the better society we are fighting for democratic socialism.
We are proud of our unique status as one of the few national, multi-issue left-wing student organizations in the United States. Twice a year we meet at our winter outreach conference and summer leadership retreat to share our experiences and build a national community. We encourage young socialists to explore social and political issues on our blog, The Activist.
Blog for Young Democratic Socialists, the youth section of Democratic Socialists of America. Mention our blog online using #TheActivist.
Quarterly newsletter for Young Democratic Socialists, the youth section of Democratic Socialists of America.
Latest News
We're excited to share the spring issue of our newsletter, the Red Letter. It features a photo essay from our winter conference as well as chapter reports, an excellent introduction to the work of bell hooks by YDS working-class caucus chair Liz Wright, and David Roddy's report on the winter conference, Red Blizzard in the Big Apple. We're mailing out copies this weekend to YDS members and chapter leaders, but you can also view and download a pdf version here.
If you'd like to print out some copies in black and white you can download a high quality black and white version here.
YDS Cochairs Alex and Matt with Javi and Zac, representatives from our sister socialist party in Mexico
Throughout history, young people have kindled the flames of social movements. In the US, students initiated successful fights against Jim Crow and the Vietnam War, and the more recent struggles against neoliberal austerity in Greece, Quebec, and on Wall Street have had an undeniably youthful energy. In 2014, the leftward trajectory of youth in the United States is visible in the increasing membership and participation of students in the Young Democratic Socialists.
This President's Day weekend, over 100 young activists from across the country braved a blizzard and bitter cold to converge on New York City for the annual YDS winter conference, "Beyond Capitalism: Activism and Ideas for the Next Left". The conference included plenaries, presentations, and workshops to strengthen both the analytical and strategic acumen of YDS members, while also providing a welcoming environment to build a national community for young socialist activists.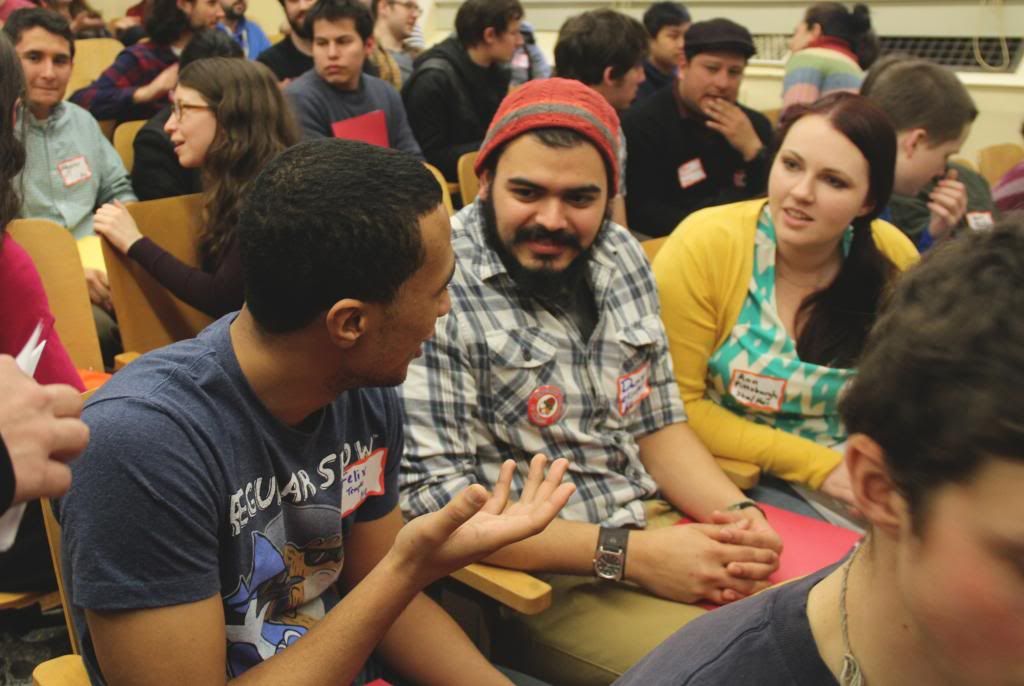 Group break out during the transformative organizing workshop.
We'll have a full report from the YDS winter conference up soon (now available here). We had over 100 young activists attend the two day conference, and we started it all of with a big crowd of 140+ YDSers and New York City community members who came on a Friday night to listen to our plenary on "New Directions in Feminism". Until we get the full report ready, we wanted to share some of the best pictures from the conference.
All of the photos were taken by two super talented YDSers - Alexis Wright-Whitley and Marcel Gretzschel. You can check out Alexis's professional work here.